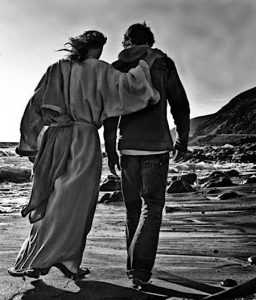 Walk With God Ministries started a long time ago when I came across the fact that the Word of God tells us that only two men "Walked With God."
Gen 5:22 Enoch walked with God after he fathered Methuselah 300 years and had other sons and daughters. ESV
Gen 6:9 These are the generations of Noah. Noah was a righteous man, blameless in his generation. Noah walked with God. ESV
Over the years I have always viewed this as my daily goal, To walk with Him stride for stride. But as usual, the Holy Spirit challenged me go deeper and I spent some time in taking fresh look at the word "walk" in Hebrew … Halak (haw-lak) … and needless to say, He opened up a whole new view.
There are many uses of the word halak in Hebrew but there are two that reveal a different aspect of just what our waking with God involves. It is a given that walking with God implies a relationship with him in thought, word, and deed, and we can only accomplish that by faith. It is our faith that makes God real when we go His way; keeping His pace. And that's where two uses of the word add to our definition … to Grow and to Travel.
Our walk with God is the embodiment of Romans 8:29. When we travel with Him through this life, we are being led by the Holy Spirit, whose goal is for us to grow spiritually; to mature spiritually; to live the life of Christ that we have been given in Him; to be conformed into the image (character) of Jesus.
What an awesome thought. By faith, we receive Jesus' life in the form of the Holy Spirit. Then we begin to travel through this life by following Him and allowing Him to reveal those things in our life that impede our journey that need to be dealt with; whereby our obedience we grow spiritually.
I love the way the Holy Spirit continues to provide fresh insight into the Word of God and how it impacts our life every moment. Two simple words that expand our understanding of the Life of Christ … Growing and Traveling with Him through this life of preparation for eternity. The more we grow and the further we travel with Him down here, the more we eternally impact our life to come as we look forward to those wonderful words …
Matt 25:21 Well done, good and faithful servant. You have been faithful over a little; I will set you over much. Enter into the joy of your master. ESV