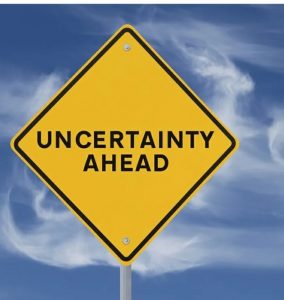 Considering all the "uncertainty" surrounding all of us here in 2023, I once again returned to the Lord's words on the mountain top. These scriptures have been a part of the foundation of Walk With God Ministries for many years, and they continue to both challenge and encourage me. They also provide light on the path that Paul laid out for us to walk in Romans.
This morning I was led there once again in reading the 4th chapter of James where they are not only applicable, they provide the path we are to follow in carrying out the vision and goal that the Lord has set before us.
Here is James' challenge:
James 4:13-14 Come now, you who say, "Today or tomorrow we will go into such and such a town and spend a year there and trade and make a profit"— 14 yet you do not know what tomorrow will bring. What is your life? For you are a mist that appears for a little time and then vanishes.
Here is the Lord's response:
Eccl 10:14 A fool multiplies words, though no man knows what is to be, and who can tell him what will be after him? ESV
Matt 6:34 "Therefore do not be anxious about tomorrow, for tomorrow will be anxious for itself. Sufficient for the day is its own trouble. ESV
These words of our Lord have been a challenge to me over the years as He has slowly brought me to the place where I "live one day at a time." Every moment we spend worrying about the past or the future we rob from today. Today is where the Spirit of God is focused on drawing us closer to Jesus. Today is where we can override Him with yesterday or tomorrow.
Here is what James tells us about today:
James 4:15 Instead you ought to say, "If the Lord wills, we will live and do this or that." ESV
And what is God's will for His Son's bride?
Rom 8:29 For those whom he foreknew he also predestined to be conformed to the image of his Son, in order that he might be the firstborn among many brothers. ESV
Our past is unchangeable and we cannot presume to change it. Our future is unknowable and no matter how hard we search we will not discover it. The Lord's perfect will for our life is "today" and our part is to follow James' leading: "If the Lord wills, we will live and do this or that." Which brings us full circle. In the midst of the Certain Uncertainty in this world …
The only thing that is Certain is God.