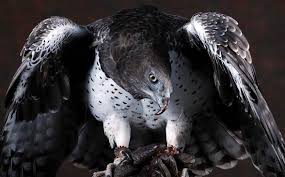 There is a verse in Jeremiah that has always confused me, but I have never taken the time to work through it…
Jer 39:18 For I will surely deliver thee, and thou shalt not fall by the sword, but thy life shall be for a prey unto thee: because thou hast put thy trust in me, saith the Lord. 
When I see or hear the word "prey" I immediately get a picture of a bird of "prey" focusing on its next meal. For that reason the thought of God viewing my life as a "prey" has never made sense. So when I came across this verse again I decided to work it out in Hebrew and the word lsalal changed the picture significantly. In context it refers to God coming to Jeremiah when he was in prison and making him a promise…
Jer 39:15-17 Now the word of the Lord came unto Jeremiah, while he was shut up in the court of the prison, saying, 16 Go and speak to Ebed-melech the Ethiopian, saying, Thus saith the Lord of hosts, the God of Israel; Behold, I will bring my words upon this city for evil, and not for good; and they shall be accomplished in that day before thee. 17 But I will deliver thee in that day, saith the Lord: and thou shalt not be given into the hand of the men of whom thou art afraid.
It is in fact a promise from God that wherever He sends us, He promises to guard our life. The translation of that verse in Hebrew is … but thy life shall be spared. It is the complete opposite of what that word means to us; to hunt and kill for food or an animal that is hunted and killed.
The message is that when God calls us to do something or go some place for Him there is no time for us to be focused on being a "prey" in the circumstances because He will "spare" us. Or put another way, we cannot go where He wants us to go or do what He wants us to do if we are in fear of being "prey." We can't be concerned about what it may mean for us if we are not justly dealt with in the process. That was Jeremiah's concern. How would he be dealt with at the hands of Ebed-melech when Jeremiah delivered God's message… Behold, I will bring my words upon this city for evil, and not for good.
If we are concerned about being justly dealt with by this world when we follow the Lord we are standing on the edge of self-pity in fearing that we will be treated unjustly. God promises us just the opposite. Jesus tells us to go on with what He has told us to do and He will guard our life if we walk in faith and not fear, not leaning on our own understanding.
The bottom line is never to look for justice in this world. If we do, we will find plenty of justification to hold back from what God is asking us to do. Rather we need to hold fast to what God told Jeremiah… because thou hast put thy trust in me, saith the Lord. It's all about having complete faith in the promises of God…
 Rom 8:28 And we know that all things work together for good to those who love God, to those who are the called according to His purpose.
If we are walking in accordance with Jesus' "purpose" for our life, our faith in Him is the guarantee that there is nothing the world can do to  counter the "justification" that we have in Him. Everything … "every thing" … is working for our good if we remain focused on His purpose for our life. His purpose of conforming us into His very image. And if we keep in mind that in Him we are already "justified," whether or not are we justly dealt with in the world is irrelevant and of no conscience.