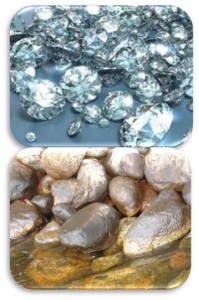 It was one night in July 1967 and the heat was really unseasonable in Southern California. A tropical storm from Mexico was pushing tons of humidity into the normally dry desert air. It reminded me of those summer nights growing up in the Midwest where the only ones not dripping with sweat at midnight were the mosquitoes. It was, I must admit, a small price to pay for the ticket I had in my hand. It was exciting and strange at the same time. I was going to my first rock concert and I felt like a Guy Lombardo fan dropped into American Bandstand.
Finally, ever so slowly the line began to move and I entered the arena where the heat and humidity were even worse. Down there, about a million rows below me, was a very plain stage with a stool sitting in the center. That seemed odd since I had paid good money to see one of the hottest groups of the sixties … Blood Sweat & Tears. Everyone else seemed edgy too and they kept standing up and looking around as if hoping to locate another stage somewhere. I wondered if we were going to get one of those … sorry folks, Blood Sweat & Tears couldn't make it but here is Rock & Roll Wanna Be and His Band! 
Just about that time the lights began to dim and everything got real quiet. After a few minutes this little guy comes shuffling out with his guitar and I'm really beginning to think that I've made a huge mistake. He sure wasn't much to look at, just jeans, loafers and a white shirt. A shaggy Prince Valiant haircut that made him look like Buster Brown and these little wire glasses that looked like they belonged on some hippy in a San Francisco coffee house. No announcement – just dead silence as he climbed up on his stool. And then it happened …
The voice was as crisp and clear as the sound of his guitar.  The audience just sat there mesmerized as the notes flowed forth like a clear mountain spring. When he finished, all you could hear was the fading ring of that big twelve string and then there was dead silence. Mouths hung open in wonder for what seemed like an eternity. Then out of the background came the words that forever touched a small part of my heart … Ladies and gentlemen, Blood Sweat & Tears is proud to introduce you to an up and coming young star.  Please welcome John Denver!

I have never been one that gets enamored with celebrities in any way shape or form, but over the years the voice of John Denver has always touched a spot deep within me. It seemed as if he was constantly searching with his music for the source of the wonderful gift within; that God given gift that the world calls talent. One only need pause and reflect for a moment at what might have been if he had found the source of his beautiful gift. Perhaps he did, I can only hope so.
How sad it is when one so gifted never makes the connection. We have seen it so many times. Lives lived to the fullest from the world's perspective and yet totally missing the fullness of their Creator; the lives that ultimately ended in empty, unfulfilled loneliness … devoid of the only relationship that matters. And that is what this is all about. 
When you ask how I've been here without you,
I like to say I've been fine … and I do.
But we both know the truth is hard to come by,
And if I told the truth … that's not quite true.
Some days are diamonds – some days are stone,
Sometimes the hard times won't leave me alone.
Sometimes the cold wind blows a chill in my bones,
Some days are diamonds – some days are stone 
John Denver wrote this song near the end of his life and it seems to reflect his life's journey.  His was a journey of searching but seemingly never finding. We can only hope that in his search he found His Savior. How sad that these few words not only describe the life of the unbeliever but often the life of the believer.
Take the first few lines of this song and picture them being spoken to Jesus. How many Christians do you know that could speak those words? Has it ever been you? It's been me. I've walked down the path of life completely out of step with Jesus and told everyone how fine I was when in fact … if I told the truth, that's not quite true. When you are in that place the song's chorus is a perfect description of your life … some days a diamond, some days a stone.
When I lose track of who I am and whose I am, I become a huge target for the enemy. It's during those times that the hard times won't leave me alone. Ever been there? The real sad part is that being there is our choice, not God's. He never sees us as a stone, only a diamond.
The diamond is an interesting stone.  Ever wonder why we place such a high value on it? Yes it's rare but why?  It's nothing but simple carbon; a piece of coal that stuck with it and became a precious stone. If coal is taken out of the ground before the process is finished it becomes nothing more than fuel for our fires. A simple fuel that is in great abundance and when used it gives us obnoxious problems that often outweigh its benefits. Good for today but when it's used up there is nothing for tomorrow … we always need more. Does that sound like an unfulfilled life?
The diamond on the other hand is the stone the Greeks and Romans called the invincible. In the Hebrew it is a combination of two words: yahalom meaning a stone of value and brilliancy; something very hard; and shamir meaning a hard point.
Ezek 28:13 Thou hast been in Eden the garden of God; every precious stone was thy covering, the sardius, topaz, and the diamond, 
Jer 17:1 The sin of Judah is written with a pen of iron, and with the point of a diamond: it is graven upon the table of their heart, and upon the horns of your altars;
When you think about it, when God looks at us, all He ever sees is the finished product. He sees a piece of carbon that has been finished into the image of His Diamond … Jesus. It doesn't matter to Him that we are in fact that piece of coal being processed by the Holy Spirit under heat and pressure. To Him we are perfection just like Jesus, because Jesus completed the transformation process for us. In His sacrifice He took all the pressure and heat of sin to the cross with him. He insured that we would never be taken out of the ground like a piece of coal and consumed by the fires of the world. He made sure that we would be able to finish the process and become what God intended … not what John saw:
Now the face that I see in my mirror,
More and more is stranger than me,
More and more I can see there's a danger,
In becoming what I never thought I'd be.
I think the Apostle Paul had it pretty well in hand when he spoke about our living this life we have been given here on earth.  We are that piece of coal being formed by the heat and pressure of life's trials. Being formed by love into a precious stone, a diamond; the perfect image of the risen Christ.
1 Cor 13:10-12 But when that which is perfect is come, then that which is in part shall be done away.  11. When I was a child, I spake as a child, I understood as a child, I thought as a child: but when I became a man, I put away childish things.  12. For now we see through a glass, darkly; but then face-to-face: now I know in part; but then shall I know even as also I am known.
Let's take a little deeper look at this process and see if we can see any similarities:
2 Cor 3:18 But we all, with open face beholding as in a glass the glory of the Lord, are changed into the same image from glory to glory, even as by the Spirit of the Lord. 
Phil 3:12 Not as though I had already attained, either were already perfect: but I follow after, if that I may apprehend that for which also I am apprehended of Christ Jesus. 
1 John 3:2 Beloved, now are we the sons of God, and it doth not yet appear what we shall be: but we know that, when he shall appear, we shall be like him; for we shall see him as he is. 
In the middle of the process we are reminded that we are not blind to what's coming. We are not going through life on some aimless journey without any purpose or direction. We have the ability to see the glory of the Lord in front of us. We can see the diamond. 
1 Cor 13:9-10 For we know in part, and we prophesy in part. 10 But when that which is perfect is come, then that which is in part shall be done away. 
2 Cor 5:7 (For we walk by faith, not by sight) 
Furthermore, we are being changed into that wonderful image from glory to glory. We are changed from faith to faith and from suffering to suffering.
Rom 8:18 For I reckon that the sufferings of this present time are not worthy to be compared with the glory which shall be revealed in us. 
What an incredible promise! Not only do we have the assurance of the Creator of the universe that we will we become like His perfect diamond, He has given us the power to make it by His Holy Spirit. All we have to do is submit to the process just like that piece of coal. The difference, however, between the carbon in that piece of coal and the carbon that makes us up is monumental. That lump of coal has no choice in the matter. If it stays in the ground long enough it will become a diamond. The only question remaining is will man leave it there long enough? On the other hand we have been given the perfect image of what we shall become in God's Word. The very revelation of God's perfect diamond is there for us to read, to establish as our hope, and to set or faith to. His Word tells us over and over that he who will persevere through the trials of this world to the end will attain.
Matt 10:22 And ye shall be hated of all men for my name's sake: but he that endureth to the end shall be saved. 
And to persevere we must endure to the end:
1 Peter 1:13-16 Wherefore gird up the loins of your mind, be sober, and hope to the end for the grace that is to be brought unto you at the revelation of Jesus Christ; 14. As obedient children, not fashioning yourselves according to the former lusts in your ignorance:  15. But as he which hath called you is holy, so be ye holy in all manner of conversation; 16. Because it is written, Be ye holy; for I am holy. 
No, we as children of the Living God have no business seeing ourselves in any other way than how He sees us. To do so is to challenge His Word by leaning on our own understanding (Pro 3:5). But what love He has shown to us.  In the face of His truth He still allows us to make that unwise choice. And why do we often do it? Because, under the pressure and heat of the process we lose sight of prize set before us.  We forget that each and every day as we submit to the authority of the Holy Spirit we are becoming more and more like Him.
Yes, it's sad when an unbeliever looks at his or her life and judges it based on their current circumstances. How much sadder it is when believers live the same way. As the Apostle Paul told us, we need to look at the trials of this life as set before us by the One who loves us the most; the One who knows just what it will take for us to be transformed into the image of His precious diamond.
Phil 3:12-16 Not as though I had already attained, either were already perfect: but I follow after, if that I may apprehend that for which also I am apprehended of Christ Jesus. 13. Brethren, I count not myself to have apprehended: but this one thing I do, forgetting those things which are behind, and reaching forth unto those things which are before, 14. I press toward the mark for the prize of the high calling of God in Christ Jesus.  15. Let us therefore, as many as be perfect, be thus minded: and if in any thing ye be otherwise minded, God shall reveal even this unto you.  16. nevertheless, whereto we have already attained, let us walk by the same rule, let us mind the same thing.  
The lingering words of John Denver should never be manifest in our life. We have a choice each and every day …
Some days are diamonds, some days are stone,
Sometimes the hard times won't leave me alone.
Sometimes the cold wind blows a chill in my bones,
Some days are diamonds, some days are stone.
Our testimony should never be that of the lost:
When you ask how I've been here without you,
I like to say I've been fine … and I do.
But we both know the truth is hard to come by,
And if I told the truth … that's not quite true.
The truth for the believer is never hard to come by. It has been purchased by and established in our spirit by The Word of God (Jesus), and we have the right, no the obligation, to stand up in the face of the circumstances and say … I am fine and I know that's true!  Let's take Paul's challenge and let the hard times and the cold wind be nothing but a part of the process. Let us press on and keep our eye on the prize:
Gal 4:9 … after that ye have known God, or rather are known of God, how turn ye again to the weak and beggarly elements, whereunto ye desire again to be in bondage? 
If God sees you as a diamond … why would you ever see yourself as a stone?