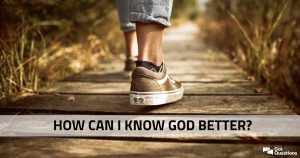 Heb 11:8 By faith Abraham obeyed when he was called to go out to a place that he was to receive as an inheritance. And he went out, not knowing where he was going. ESV
Have you been asking God what He is going to do today? We all certainly have and most likely not just once. Well, from personal experience, I can tell you … He is not going to tell us! What He is going to do is reveal to us more of who He is. That is the key to building confidence in and growing closer to Him and it requires us to step out in faith totally depending upon Him.
Matt 6:25 Therefore I say unto you, Take no thought for your life … KJV
It's a tough one! I'm certainly not there yet but I learned something years ago that makes it possible … "Take no thought" …  as long as I do it.
Matt 6:34 Take therefore no thought for the morrow: for the morrow shall take thought for the things of itself. Sufficient unto the day is the evil thereof. KJV
That one command from our Lord has made a huge difference in my ability to walk by faith; trusting my 24 hours to Him. He made it simple for me when He tied it to "serving" Him and following the leading of His Spirit … Yesterday is gone and you can't change it … tomorrow isn't here and what it entails is unknown … therefore, focus on today … live one day at a time.
Every day we wake up the Lord has entrusted 1,440 minutes to us. How we use those minutes impacts us in many ways, not the least of which is allowing the Lord to reveal more of Himself to us. Growing closer to Him and becoming more like Him as we live out the life He has given us …. His life.  It took me a long time to understand that my day is not about "doing." I was continually, in my desire to serve Him, focused on "what's on the agenda today;" His focus is on "walk with Me." I finally learned that if my focus is first and foremost on walking with Him, the "what to do" eventually sorts itself out.
For the Lord, the goal for the day (for life) is the process not the doing. The process of our growing (maturing) spiritually. That is why His Life (the Holy Spirit) has been given to us to "lead us" through our life down here in preparation for an eternity of service. That's why our life, if you will, is a probation period that has eternal consequences. As I have said many times: The day we stand before Jesus we will never hear the word sin. He will only ask … "What did you do with what I gave you?" And that answer has everything to do with the relationship we have with Him now and nothing to do with serving Him; serving is a byproduct of walking with Him in faith.
Life is a marathon, not a sprint. For far too many years I woke up in the morning and took off running and wore myself out. Learning to walk with God is a process and it starts every day before you get out of bed … take therefore no thought for the morrow and focus on what God is revealing of Himself to you today. The result has everything to do with His peace, the peace that He has given us that passes all understanding.